Wabamun Lake Cabins For Sale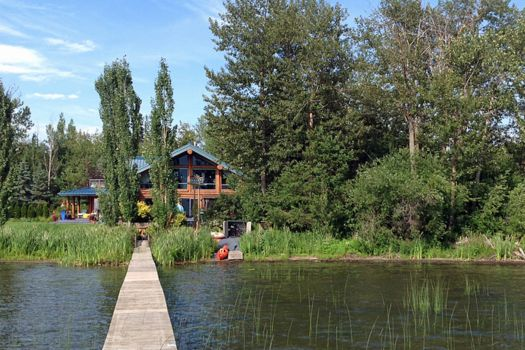 Are you searching for a lakefront getaway with stunning views and access to all the fun of Wabamun Lake? Look no further than our selection of cabins for sale at Wabamun Lake. These properties offer beautiful views and easy access to some of the most desirable recreation spots on the lake. Whether looking for a weekend retreat or a full-time residence, Wabamun Lake cabins offer something for everyone.
Our selection of cabins for sale at Wabamun Lake features different styles and sizes to suit various budgets and needs. From cozy lakefront cottages to luxurious waterfront homes, there's something to meet every taste. Whether you're looking for a weekend getaway or a full-time residence, our selection of Wabamun Lake cabins can accommodate you.
Our listings are updated daily and include all the necessary information to make an informed decision. You can find your ideal property quickly with easy access to detailed photos, virtual tours, neighborhood info, and price estimates.
The Haupt Realty Team is here to help. Our team of experts is knowledgeable and experienced in Wabamun Lake cabins for sale, so you can be sure that we will make the process easy and enjoyable. Contact us today to learn more about our selection of Wabamun Lake cabins for sale!
Wabamun Lake Cabins For Sale by Price
Why Wabamun Lake is the perfect place to buy a cabin
Wabamun Lake is one of Alberta's most beautiful locations and the perfect place to buy a cabin. It offers breathtaking scenery, plenty of outdoor activities like fishing and hiking, and stunning views across the lake. There are a variety of cabins for sale on Wabamun Lake, with something to suit every budget and style.
The lake has a variety of amenities and activities for visitors to enjoy, including beaches, boat launches, picnic sites, marinas, fishing spots, and much more. The surrounding area boasts some of Alberta's best shopping and dining experiences. Many cabins offer stunning views of Wabamun Lake, ideal for people who love to spend time outdoors.
Purchasing a cabin on Wabamun Lake is a great investment, as it will appreciate over time. It's also a wonderful way to establish roots and create lasting memories with family and friends. With all the activities the lake offers, there's never a shortage of things to do. Wabamun Lake is perfect for outdoor enthusiasts, from fishing and swimming to boating and camping.
What types of cabins are available in the area
Various cabins and other properties are available for sale in the area around Wabamun Lake. Depending on your budget and interests, you can find anything from rustic log cabins to modern luxury homes. Many cabins have been around for generations, with some remaining unchanged since they were first built. You can also find properties with up-to-date features such as indoor fireplaces, hardwood floors, and energy-efficient windows.
Where are the cabins located near Wabamun Lake?
The cabins for sale around Wabamun Lake are all within easy access to the lake. Depending on the specific cabin you choose, you may be within walking distance or a short drive away from Wabamun Lake. Many cabins also offer lakefront views and access to private beaches.
What amenities are available with the purchase of a cabin near Wabamun Lake?
You may have access to various amenities when purchasing a cabin around Wabamun Lake. Many cabins feature multiple bedrooms and bathrooms, full kitchens, and outdoor decks with seating areas. Some properties also offer access to private lakeside docks for fishing or boating. In addition, many cabins are located near local restaurants, shops, and other attractions.
No matter what type of cabin you choose, you can be sure that a prime location near Wabamun Lake is part of the package. With so many cabins for sale in the area, it's easy to find one that fits your specific needs and budget. And with the amazing amenities and activities, you'll have no trouble finding the perfect place to call home.
Reasons to purchase a cabin in the Wabamun Lake area
The Wabamun Lake area is a beautiful and peaceful place to call home. Whether you're looking for a summer getaway or a permanent residence, there are many great reasons to consider purchasing one of the cabins in the Wabamun Lake area. Here are just some of the benefits:
- Beautiful Location: Wabamun Lake is in the stunning Edmonton Metropolitan Region and offers breathtaking views, plenty of outdoor activities, and a peaceful atmosphere. There are many areas to explore around the lake, such as Deadman Valley Provincial Park or Dewberry Marsh Natural Area.
- Affordable Living: Property taxes in the area tend to be lower than in surrounding areas, making it an attractive place for those on a budget. The cost of owning or renting cabins in the area can fit any budget as well.
- Easy Accessibility: The Wabamun Lake area is easily accessible from major highways and roads, making it convenient for commuters looking for a peaceful weekend getaway or those moving permanently into the area.
- Peaceful Community: The small town atmosphere of the Wabamun Lake region makes it a great place to live and connect with nature. The area has many activities, events, and restaurants that offer residents an enjoyable year-round experience.
Unique activities and attractions around the lake
Wabamun Lake is the perfect vacation spot for outdoor enthusiasts, offering a variety of activities and attractions to explore. Whether you're looking for swimming, fishing, boating, or just relaxing with a view, Wabamun Lake has something for everyone. There are many trails for hiking and biking circling the lake and a marina where boats can be launched onto the lake. Golfing fans can also take advantage of nearby golf courses that offer breathtaking lake views.
Those interested in cabins should know there are beautiful Wabamun Lake Cabins For Sale, including waterfront properties on the lake's edge. These properties provide spectacular views of the surrounding area and all its natural beauty! Many of the cabins for sale come completely furnished and ready to move in. With all the amenities of home, you can be sure that your stay at Wabamun Lake will be both enjoyable and relaxing.
In addition to the activities on the lake, plenty of attractions are located around nearby towns and cities. There is something for everyone! From museums and historical sites to shopping districts, restaurants, nightlife venues, and more. Whether you're looking for a fun day trip or a full vacation experience, Wabamun Lake is sure to have something that appeals to you.
Tips for finding your ideal cabin among those for sale
When searching for Wabamun Lake cabins for sale, finding a cabin that meets your needs and fits your budget is important. Here are some tips to help you find the perfect cabin:
1. Determine what features you need in a cabin:
Do you need a cabin with multiple bedrooms? How much space do you need? What other amenities would be helpful? Writing down all these requirements will help narrow your search and make it easier to find an ideal fit.
2. Set your budget:
Before beginning your search, determine how much money you can spend on a cabin. While many options may be available in different price ranges, knowing your budget ahead of time will help narrow your search.
3. Research the area.
Understanding the local area is key to finding a cabin that meets your needs. Look into the area's safety, nearby amenities, and other factors that may be important when deciding.
4. Talk to existing owners:
If possible, contact existing owners of cabins in Wabamun Lake and inquire about their experience with owning a cabin there. They can provide helpful information on what it's like to own property around the lake and what they know about buying/selling cabins.