Houses For Sale Summerside Edmonton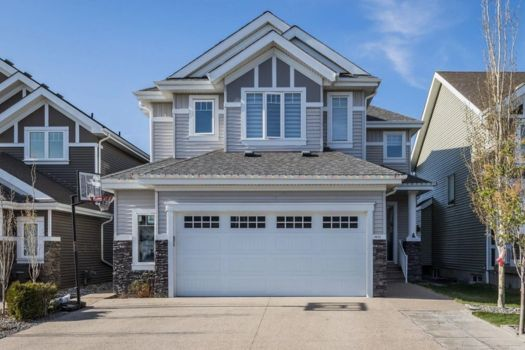 Summerside is a beautiful neighbourhood in South Edmonton, close to the international airport and downtown. With its natural beauty, Summerside offers a variety of single-family homes, townhouses, and condominiums for sale that offer plenty of outdoor activities such as fishing, boating, and swimming in the 28-ft deep 32-acre lake.
Residents of Summerside can enjoy various amenities such as a sandy beach and playground, a skating rink during winter time, and kayaking and canoeing. Families will love the clean sidewalks, spacious yards, beautiful landscaping, and amazing lake views that come with living here.
The low crime rate makes it an ideal place to settle down and raise a family. Our website is the perfect place to start your search if you're looking for Edmonton Summerside homes for sale.
We have an extensive selection of listings to choose from, and you can refine your search by price range, type of property, number of bedrooms & bathrooms, view properties, etc.
You can also register for a free account to receive email alerts whenever new listings that match your specific criteria come on the market.
The Haupt Realty Team is made up of knowledgeable and experienced professionals that are dedicated to providing the highest level of customer service. We want you to find the perfect home in Summerside and be happy with your purchase.
Homes for Sale in Summerside by Price
Overview of Summerside, Edmonton – An Ideal Place to Live
Summerside is a vibrant community located in southeast Edmonton. With great amenities, abundant recreational activities, and easy access to all parts of the city, Summerside is the perfect place for families and individuals looking for their next home.
Many houses are for sale in Summerside, Edmonton, from modern single-family homes to luxurious condos and townhouse complexes. Whether you're looking for a starter home or an upgrade, this wonderful community has something for everyone.
Summerside is conveniently located near the city's primary shopping and entertainment hubs. Enjoy a variety of fine stores, restaurants, and movie theatres at nearby Southgate Mall or explore nature in the nearby Rundle Park & Ravine System.
With easy access to transit services and major roadways, Summerside is ideal for those needing to commute for work or leisure.
Advantages of Living in Summerside, Edmonton
Living in Summerside, Edmonton, offers many advantages. If you are looking for houses for sale in the area, there are plenty of options to suit your lifestyle and budget.
Summerside is a vibrant community with beautiful parks, trails, and easy access to downtown Edmonton. The neighborhood features numerous amenities, such as grocery stores, restaurants, schools, and recreation facilities.
The community is conveniently located near the airport, universities, and public transit. There are also many employment opportunities in the area, making it a great choice for anyone looking to advance their career. The neighborhood is known for its affordability and excellent quality of life.
Summerside is ideal for families, with plenty of parks and playgrounds to keep children entertained. The local schools are highly rated, providing a great education in a safe and nurturing environment. Numerous activities are available in Summerside, including swimming, tennis, and soccer.
Types of Homes Available for Sale
Summerside is a great area to buy a home in Edmonton, with many houses available for sale. Single-family homes are the most commonly available, ranging from small starter homes to large estate properties.
Townhouses and condos are also available, perfect for those who prefer low-maintenance living or living within a budget. In Summerside, there is something for everyone's budget and lifestyle.
The Summerside community also offers various amenities, including access to shopping and entertainment, beautiful parks, lush greenery, and more, making it an ideal spot for homeowners. It's easy to take advantage of the nearby walking trails or relax in the comfort of your own home.
For those looking for luxury, the area has exclusive detached houses with breathtaking views or large estate homes situated on ample acreage. Many townhouses and condos offer affordable convenience, style, and comfort for those who might not have the budget to buy a single-family house.
Reasons to Invest in a Home in Summerside, Edmonton
Summerside, Edmonton, is an ideal place to invest in a home. Located south of the city limits, the community offers access to many modern amenities and attractions.
Residents enjoy many recreational activities within their neighborhood and proximity to shopping centers and entertainment venues.
In addition to these advantages, Summerside homes for sale offer a great investment opportunity with the potential to increase in value over time.
Here are just some of the reasons why Summerside should be on your list when considering where to purchase a house:
1. Location and Accessibility
Summerside is conveniently located near several major highways, such as Whitemud Drive and Henday Drive. This makes commuting to and from the city center easy while providing an escape from the hustle and bustle of downtown Edmonton.
2. Modern Amenities
Summerside has several state-of-the-art amenities, including a recreation center, golf course, swimming pool, and fitness facilities. Residents also enjoy access to nearby parks and trails and convenient shopping centers.
3. Affordability
Houses for sale Summerside Edmonton offer an affordable option for homeowners looking to purchase a quality home in the city. With a wide range of prices and sizes available, buyers can find what best suits their needs without breaking the bank.
4. Leisure and Entertainment
Summerside offers plenty of leisure activities for residents, including entertainment venues such as the South Edmonton Common Mall and the Cineplex Odeon Theater.
5. Schools and Education
Two public school boards serve Summerside, offering quality education to students from kindergarten through grade 12.
Steps to Take When Buying a House in Summerside, Edmonton
Are you looking for houses for sale in Summerside, Edmonton? The process of buying a house can be daunting and overwhelming. To help make the home-buying experience more enjoyable, here are some essential steps to take when searching for houses in this vibrant neighborhood:
1. Determine Your Budget:
Before diving into your search, it's important to determine your budget. This includes down payment, mortgage payments, and closing costs. Knowing what you can afford will save you time and help narrow down the list of houses for sale in Summerside, Edmonton, that match your financial requirements.
2. Research the Area:
As you look for houses for sale in Summerside, it's important to research the neighborhood. Look into factors such as crime rates, schools, amenities, and other factors that may affect your decision.
3. Identify Your Needs:
List your desired features when searching for homes in Summerside. Whether you want a larger backyard or a home close to amenities, this list can help narrow your options.
4. Find a Real Estate Agent:
A real estate agent can be invaluable in home buying. They know the area and can help you find houses for sale in Summerside that fit your criteria.
The Haupt Realty Team can help you navigate the search for houses for sale in Summerside, Edmonton. Our knowledge and expertise will provide the guidance and support you need to find your dream home in this vibrant community. Contact us today to get started!