Ramsay Heights Edmonton Homes For Sale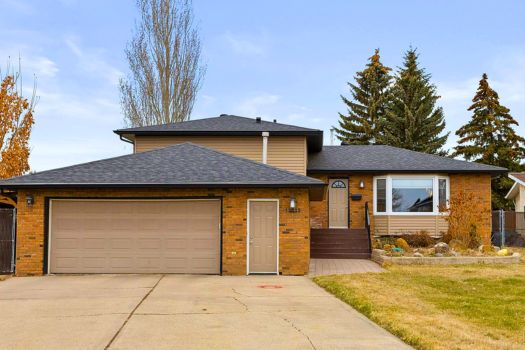 Ramsay Heights is located in southwest Edmonton, AB, a well-established neighborhood first developed in the 1950s. The community has grown steadily and includes many wonderful residential properties today. Ramsay Heights residents enjoy access to nearby amenities such as schools, shopping centers, parks, restaurants, and more.
Whether you are looking for a single-family home, townhouse, or apartment, Ramsay Heights offers something. Homes in this area range from affordable starter homes to large luxury properties.
There is also a great selection of condos and apartments available as well. Ramsay Heights is a great place to call home with its convenient location, proximity to amenities, and various housing options.
If you are interested in exploring the real estate opportunities that Ramsay Heights has to offer, please browse our listings and contact us with any questions. We look forward to helping you find your perfect new home!
The Haupt Realty Team is here to help you find your perfect home in Ramsay Heights. Whether it's townhomes, single-family homes, or condos, our experienced professionals have the local knowledge and resources to help you make an informed decision. Contact us today, and let's get started on your real estate journey!
Ramsay Heights Homes for Sale by Price
Introducing Ramsay Heights
Ramsay Heights is an Edmonton neighborhood that offers lush scenery, stunning homes, and a vibrant community. This family-friendly suburb is a popular destination for those looking for Ramsay Heights Edmonton homes for sale. With its quiet streets, ample green space, and easy access to an array of amenities, this is the ideal place to call home.
Whether you're a first-time homebuyer, an investor, or someone looking to downsize, Ramsay Heights has something to offer. Its homes range from cozy single-family dwellings to sprawling luxury homes and come in various styles that cater to any need and budget. There is no shortage of charming properties for Ramsay Heights Edmonton homes for sale.
The neighborhood also has many amenities, making it an enjoyable place to live. There is something for everyone, from parks, pathways, and trails to schools, shopping centers, and recreation facilities. Residents easily access the city's major roads and public transit, making commuting a breeze.
Popular Amenities in Ramos Heights and Surrounding Areas
1. Shopping
Edmonton has several shopping districts and malls, making finding whatever you want easy. From the West Edmonton Mall to Londonderry Mall, plenty of places to shop within a short distance of Ramsay Heights Edmonton homes for sale.
2. Parks & Recreation
Numerous parks exist in and around Ramsay Heights, including Riverview Park, which is popular for its walking paths and stunning views of the North Saskatchewan River. Other nearby parks include Capano Park and Coronation Park, which offer plenty of outdoor space to explore.
3. Restaurants & Cafes
Ramsay Heights has several restaurants and cafes for those looking for a quick bite or a nice dinner. Popular spots include The Irish Pantry, Khao San Thai Restaurant, and London Local.
4. Schools
Many excellent schools are nearby if you move to Ramsay Heights with children. Options include Londonderry Junior High School and Avonmore Elementary School.
5. Transit
Ramsay Heights offers easy access to Edmonton's transit system with several bus stops and direct access to nearby LRT stations. This makes it easy to get around the city quickly and conveniently.
Why Buy a Home in Ramsay Heights
Ramsay Heights is a residential area in northwest Edmonton. It's a great option for buyers purchasing a home in an established neighborhood with many nearby amenities. The homes here range from single-family detached dwellings to townhomes and condos.
Ramsay Heights offers easy access to the downtown core and all its attractions, as well as nearby restaurants and shopping. Buyers can choose from various homes in different price ranges, so there's something for everyone!
Plus, the neighborhood is served by excellent schools and parks, making it a great place to raise a family. Whether you're looking for an investment property or a place to call home, Ramsay Heights has plenty of options! Explore the homes for sale in Ramsay Heights, Edmonton, today and find your perfect place to call home.
The Benefits of Living in this Elegant Community
1. Convenient Location
Ramsay Heights, Edmonton, is close to some of the city's best amenities, including shopping centers, restaurants, schools, and more. Residents of this area can easily access the rest of Edmonton via major roads like Terwillegar Drive and Whitemud Drive.
2. Family-Friendly Environment
Ramsay Heights Edmonton offers a safe and welcoming community for families of all sizes. The area has many activities and amenities, including parks, playgrounds, sports fields, and green spaces.
3. Affordable Housing
Ramsay Heights Edmonton is a great option for home buyers looking for affordable homes without sacrificing quality or style. From single-family homes to condos, there are many great options for sale for Ramsay Heights, Edmonton homes.
4. Excellent Schools
Residents of this community enjoy access to some of the best schools in the city, including the University of Alberta and MacEwan University campuses and nearby public and private schools.
5. Numerous Amenities
Plenty of recreational opportunities are available in Ramsay Heights, Edmonton, from biking and hiking trails to indoor sports facilities and public swimming pools.
Types of Homes Available in Ramsay Heights
Ramsay Heights is an idyllic community that offers a variety of housing options, with something to suit every budget and lifestyle. Homes in Ramsay Heights vary from single-family homes, townhomes, semi-detached homes, duplexes, and condos.
Single-family detached homes are the largest housing type available in this neighborhood, likely making up around 75% of the total housing stock. Some properties in Ramsay Heights offer great views, with homes on hills overlooking ravines and parklands.
Townhomes are the second most popular type of home for sale in Ramsay Heights, with various styles available, including 2-story townhouses, semi-detached townhomes, and bungalow-style homes. These homes are generally newer, offering modern features such as high ceilings and open-concept living spaces.
FAQs
How many homes are there in Ramsay Heights, Edmonton?
The number of homes available for sale in Ramsay Heights, Edmonton, changes daily, depending on the listings. Most recent estimates show that anywhere between 30 to 50 homes are available on the market. To get detailed information about the current Ramsey Heights Edmonton real estate options, it is best to contact a local real estate agent who can provide up-to-date information.
What types of homes are available in Ramsay Heights, Edmonton?
The types of homes available in Ramsay Heights, Edmonton, range from detached single-family homes to townhouses, condos, and apartments. There is something for everyone in this dynamic neighborhood. Whether you are looking for a spacious single-family home or something more affordable and convenient like an apartment or townhome, there will surely be something to suit your needs.
Are there any amenities in Ramsay Heights, Edmonton?
Ramsay Heights, Edmonton, has a host of amenities for its residents. There is a variety of shopping, dining, and entertainment facilities within the neighborhood. Residents also have access to nearby parks and trails for recreational activities. The neighborhood also boasts an excellent public transit system that makes getting around easy and convenient.
The Haupt Realty Team has extensive experience in the real estate market of Ramsay Heights and its surrounding communities. Our team can help buyers find their ideal home in this beautiful community with an unbeatable selection of homes for sale in Ramsay Heights. Contact us today to start your search for the perfect Edmonton home!