Pigeon Lake Cabins For Sale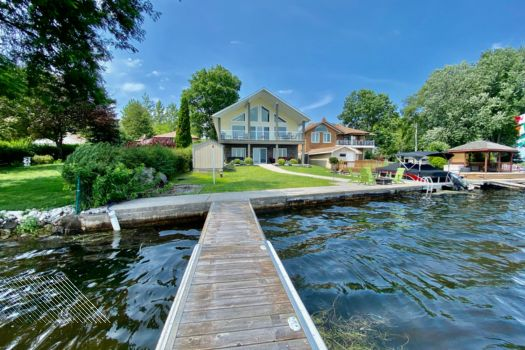 Now is the perfect time to invest in a cabin for sale at Pigeon Lake! As one of Alberta's top vacation spots, Pigeon Lake offers an amazing array of activities and attractions. From swimming, boating, and fishing to hiking, camping, and bird watching - there's something here for everyone.
At Pigeon Lake, we proudly offer a wide selection of cabins for sale. Whether you are a holiday cabin or a vacation, you'll find the perfect within Pigeon Lake's vibrant and diverse real estate market.
Our easy-to-use search feature lets you quickly locate properties that meet your unique criteria. Have a particular style of the cabin in mind? We make it easy to find that perfect fit! And our expert agents are always on hand to answer any questions and assist with your purchase.
The Haupt Realty Team has been helping people find their dream cabin for sale at Pigeon Lake for many years. Our team of dedicated real estate experts will help you make the most informed decision possible, considering all your needs and preferences.
Pigeon Lake Cabins For Sale by Price
Overview of Pigeon Lake and its surrounding area
Located in central Alberta, Canada, Pigeon Lake is beautiful, with plenty of shorelines for swimming, boating, and fishing. With various outdoor activities, such as camping, hiking, biking, and more, it's easy to see why people love this area. The area around the lake offers something for everyone - from peaceful hikes and bird-watching to exciting water sports.
There are also plenty of cabin opportunities around Pigeon Lake, with various options available. Whether you're looking for lakefront cabins, vacation homes, or rustic log cabins in the woods, there's something for everyone regarding Pigeon Lake cabins for sale. With plenty of options, you can find the perfect cabin that fits your needs and lifestyle.
Benefits of Owning a Cabin at Pigeon Lake
Owning a cabin at Pigeon Lake is an experience like no other! With its stunning natural beauty, clean waters, and nearby amenities, it's no wonder many people purchase a cabin in this area. Here are some of the benefits you can enjoy when you purchase one of the many Pigeon Lake cabins for sale:
1. Enjoy the Great Outdoors - With over 600 acres of pristine wilderness, Pigeon Lake offers plenty of space to explore and enjoy nature at its finest! Whether fishing, swimming, boating, or enjoying a sunset cruise on the lake, you won't be disappointed with all this area offers.
2. Relaxing Environment - Pigeon Lake's peaceful atmosphere and natural beauty provide the perfect setting for relaxation and rejuvenation. Enjoy a day of swimming in one of the many coves, or relax on your cabin's deck while enjoying the magnificent views.
3. Community Feeling - With its tightly knit community of locals and cabin owners, you'll always feel welcome in Pigeon Lake. Enjoy the tranquility and make lasting memories with your friends and family at one of the many cabins for sale in the area.
Factors to Consider When Looking for a Cabin
There are several factors to consider when finding the perfect cabin for sale near Pigeon Lake. Location is one of the most important things to consider. Are you seeking a peaceful secluded spot with plenty of nature and privacy? Or would you prefer something closer to town with easy access to amenities?
The size of the is another important factor when buying a cabin. Are you looking for something that can accommodate your family, or would you like to buy something larger with room for guests?
If you're looking for Pigeon Lake cabins for sale, don't forget to consider the property's condition. Are there any necessary repairs or renovations needed to keep the cabin up to date? How much work would be involved if you did the updates yourself?
Tips for Maximizing the Value of Your Investment
When you purchase one of the many Pigeon Lake cabins for sale, it's important to think of your investment as more than just a cabin. Proper maintenance and upgrades can increase your cabin's value while creating an enjoyable living environment. Here are some tips for making the most out of your investment:
1. Make cosmetic upgrades. Upgrading the interior of your cabin can make it look and feel more modern, inviting guests to come back year after year. Even simple changes like painting walls or replacing outdated fixtures can improve the overall aesthetic of your space.
2. Increase energy efficiency. Installing energy-efficient appliances and making your cabin more airtight can help you save on energy bills while making your space more comfortable. Switching to LED lighting and adding additional insulation can reduce your carbon footprint.
3. Upgrade your outdoor living area. With Pigeon Lake cabins for sale, you can access some of Alberta's most beautiful outdoor spaces. Enjoy the scenery by adding a deck, patio furniture, and outdoor amenities like fire pits or grills. These improvements will add to your property's value while providing an ideal gathering space for friends and family.
Where to Find Quality Cabins For Sale
Pigeon Lake is rich in natural beauty and outdoor recreation, making it a great place to find cabins for sale. Whether looking for an investment property or a vacation getaway, Pigeon Lake has something for everyone! From cozy cottages to modern cabins, there will surely be a cabin that fits your needs and budget.
The best way to start searching for quality cabins for sale in the Pigeon Lake area is to use a trusted real estate agency specializing in the region. Many agencies have extensive listings of cabins available, from the traditional rustic cabin to the modern-day luxury log home. With experienced professionals on the ground, you can rest assured that you're getting the best possible deal on your purchase.
Online resources can also be a great place to find cabins for sale in Pigeon Lake. Websites in this area are devoted to real estate, providing detailed information about properties such as size, location, and amenities. You can also use these websites to compare prices among various cabins for sale.
Recommended Resources and Advice For Future Buyers
If you are considering purchasing a cabin in to pigeon lake, there are some important resources and advice to remember. Here is a list of helpful resources and advice for future buyers:
1. Research the area - Before committing to a purchase, research the local area and surrounding geography. Check out nearby attractions like the pigeon lake properties Provincial Park and other outdoor activities like fishing, swimming, and canoeing.
2. Determine your budget - Consider your financial resources when deciding how much to spend on a cabin for sale in pigeon lake rv. It is important to be realistic about what you can afford so that you don't overspend and have financial difficulty.
3. Look for amenities - Evaluate the amenities available in the cabins for sale near lake front property to determine if they meet your needs and budget. Consider options such as a private dock, boat launch, or waterfront access for those who enjoy fishing.
4. Contact an Expert - Before signing on the dotted line, contact an experienced real estate agent or lawyer to help guide you through buying a cabin in Pigeon Lake. They can provide valuable advice and assist you throughout all transaction stages.
The Haupt Realty Team is available to advise and assist in buying a cabin in Pigeon Lake. Our team of experienced real estate agents can help you identify the right cabin for sale, advise on your budgeting needs, and provide guidance throughout the purchase process. Contact us today to learn more about cabins for sale in Pigeon Lake!