MacTaggart Edmonton Homes For Sale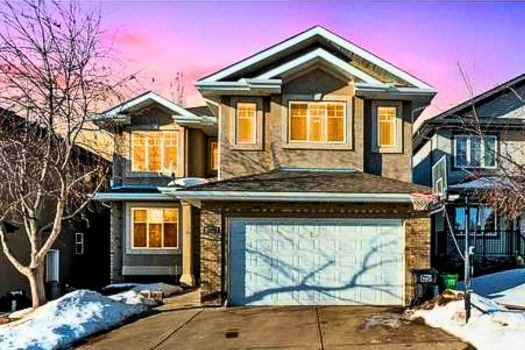 MacTaggart is an affluent northeast Edmonton community located off Rabbit Hill Road and 169 Street, just minutes from Anthony Henday Drive. This beautiful neighborhood boasts a variety of luxurious detached houses, some with sky-high views of the North Saskatchewan River valley. With several parks and trails within walking distance, MacTaggart is perfect for families and outdoor enthusiasts.
MacTaggart Homes For Sale offer a wide selection of designs and floor plans to meet any lifestyle. Whether you're interested in an executive two-story home or a contemporary bungalow, MacTaggart has something for everyone. Homes feature many upgraded amenities, including granite countertops, stainless steel appliances, hardwood floors, and tiled bathrooms.
The MacTaggart real estate market is vibrant and constantly changing. If you're looking for the perfect place to call home in Edmonton, consider MacTaggart Real Estate Listings. Registering with us today can receive email alerts about newly listed MacTaggart Homes For Sale. Register now to get started!
The Haupt Realty Team is here to help you find the perfect MacTaggart home for your family. Contact us today and let us know how we can make your MacTaggart real estate dreams a reality. We look forward to hearing from you!
Introducing MacTaggart
MacTaggart is a vibrant community in southwest Edmonton near Anthony Henday Drive. Featuring a variety of MacTaggart Edmonton homes for sale, this master-planned community offers something for everyone. With easy access to the amenities and services of nearby neighborhoods, MacTaggart is an ideal place to call home.
Explore Great Schools and Shopping Nearby
MacTaggart Edmonton is a great place to call home. This residential neighborhood in Southwest Edmonton offers easy access to excellent schools and shopping centers. Parents will be pleased that several nearby public and private schools are highly rated, making it easy for families to enroll their children in quality education programs.
In addition, MacTaggart is close to Anthony Henday Drive and Whitemud Freeway, giving residents convenient access to Londonderry Mall and other retail stores. Whether you're looking for grocery items, clothing, or home décor, you can easily find it all in MacTaggart, Edmonton.
MacTaggart Edmonton is the perfect place to find your new home, with its great schools, shopping opportunities, and easy access to major roads. Check out the MacTaggart Edmonton homes for sale today!
With so much to offer, you won't want to miss out on the excellent homes available in MacTaggart. Whether looking for a cozy condo or a spacious single-family home, you can find it all in the MacTaggart Edmonton real estate market. With various price points and styles, there's something for everyone in this vibrant neighborhood. Start your search today and explore the great homes in MacTaggart, Edmonton!
Enjoy Miles of Trails and Parks for Recreation
From MacTaggart Edmonton, homes for sale enjoy miles of trails and parks to explore all year round. Whether you like biking, running, or leisurely walks in the park, there is something for everyone!
Explore the breathtaking views of MacKinnon Ravine Park – a nature lover's paradise with over 100 hectares of natural areas that stretch along the North Saskatchewan River. Or stroll nearby nature trails and parks, like MacTaggart Park or La Perle Park. Enjoy outdoor activities with family and friends, picnics in the park, or relax by the river.
Benefits of Mactaggart Edmonton homes for sale
1. Property taxes
MacTaggart Edmonton homes for sale benefit from lower property taxes than other Alberta cities. Property taxes are based on the value of your home, so when you buy a MacTaggart Edmonton home, you can expect to pay less than what other cities charge.
2. Education
MacTaggart Edmonton is part of the greater Edmonton region, giving it access to some of the best public and private schools. Residents can also use Edmonton's post-secondary institutions, including the University of Alberta and the Northern Alberta Institute of Technology.
3. Quality Of Life
MacTaggart Edmonton offers a high quality of life for its residents. The area is close to many parks, green spaces, and other attractions such as shopping centers, entertainment venues, and cultural activities. The city also boasts a vibrant nightlife, ideal for young professionals or families looking for a more relaxed lifestyle.
4. Accessibility
MacTaggart Edmonton is conveniently located close to major highways, giving residents easy access to the rest of Edmonton and beyond. It's also just a short drive from Edmonton International Airport, making it ideal for business and leisure travelers.
Learn About the Wide Variety of Home Styles Available##
At MacTaggert Edmonton, we offer a wide selection of homes for sale, from classic semi-detached dwellings to modern condo units and stately single-family residences. Whether you're looking for a starter home or something more luxurious, our team can help you find the perfect property that fits your budget.
From traditional bungalows to contemporary split-level homes, our selection of Edmonton homes for sale is sure to have something that meets your needs.
Get to Know the Homebuilders in the Area
If you're interested in MacTaggart Edmonton homes for sale, it pays to get to know the active home builders in the area. Various builders operate in and around MacTaggart, including some of Canada's most prestigious custom homebuilding companies. Each has its unique style and emphasis, so research the available builders before selecting.
These include luxury custom homebuilders such as Boulevard Home Group, which specializes in large and luxurious family homes; Fortis Construction, renowned for its superior craftsmanship; and Carrington Homes, with a wealth of experience creating stunning multi-family living spaces.
Each of these three companies offers something special, and all of them are driven by their commitment to delivering the highest quality homes that meet the needs and expectations of their customers.
FAQs
How can I find the perfect MacTaggart Edmonton home for sale?
The best way to find your ideal MacTaggart Edmonton home for sale is by researching what's available in the real estate market. There are a variety of online resources that can help you find homes in different neighborhoods and price ranges.
What should I look for in a MacTaggart Edmonton home?
When searching for a MacTaggart Edmonton home, consider neighborhood location, property size, local amenities, and future development plans. In addition, you'll want to inspect the property's condition to ensure it meets your standards.
What are some advantages of buying a MacTaggart Edmonton home?
Purchasing a MacTaggart Edmonton home can provide you with several advantages. It can be an excellent long-term investment, allowing you to customize your living space according to your tastes.
The Haupt Realty Team is also experienced in MacTaggart Edmonton homes for sale and can help you find the perfect home to meet your needs. With our local knowledge, expertise, and commitment to customer service, we'll work hard to ensure you get the best value for your investment.
We specialize in creating custom solutions to match lifestyle requirements, budget constraints, and preferences. From unique floor plans to custom-built amenities and finishes, Haupt Realty will work with you every step to ensure your home is perfect.