Leduc Houses For Sale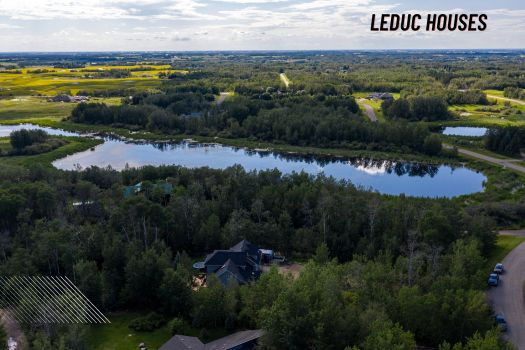 Leduc is a vibrant city located only 15 minutes south of Edmonton and offers plenty of housing options for buyers. The city is known for its wide range of property types, including modern condos, traditional homes, single-family homes, waterfront homes, and luxury estate homes.
Shopping amenities are abundant in Leduc and offer a variety of stores, such as the Leduc Common Shopping Mall, Walmart Supercentre, and Southfork Landing Shopping Mall.
Queen Elizabeth Highway goes through Leduc, providing access to Nisku and Edmonton to the north and a gateway to areas like Calgary to the south. Public transit is also available in Leduc, with local transit professional services provided and connections to Nisku, the airport, and Edmonton.
If you're looking to buy a home in Leduc, take advantage of our free account registration, where you can receive email alerts whenever new listings come on the market that matches your search criteria.
Whether you are looking for a modern condo or luxury estate home, let us help you find your perfect Leduc house for sale. The Mathew Haupt's team has the expertise to assist you in finding your dream home in Leduc. Contact us today and start your search for Leduc homes for sale!
Homes for Sale in Leduc by Price
Start your search for Leduc houses with the right budget in mind
When you are on the hunt for Leduc houses, it's essential to start your search with a budget in mind. This will help narrow the search radius and allow you to focus on more realistic options. Before you start looking at the different Leduc houses for sale, take some time to consider what type of house fits into your budget and lifestyle.
Consider factors like location, size, amenities, design, and the overall cost of ownership. Do you want a brand new home or an older one? Can you afford to renovate it if necessary? Will the house fit in with your long-term plans for the future? Once you've established a budget and what you want in a home, finding the right Leduc houses within your range for sale will be much easier.
Understand what kind of neighborhood you are looking for
When searching for Leduc houses for sale, it is important to consider the kind of neighborhood that suits your lifestyle. Do you prefer a quiet street in an established area, or seek newer developments with amenities such as parks and shopping nearby?
Researching local schools, crime rates, and accessibility to public transportation can help you determine which kind of neighborhood you would like to live in. The right neighborhood can make all the difference in finding your perfect home.
Research local amenities like schools, parks, and shopping centers
When looking for Leduc houses for sale, it is important to research the local amenities that might be important to you. This includes schools and other educational facilities, parks and recreation areas, shopping centers, libraries, and other community spaces. Knowing what is in your area can help you make an informed decision about where to live.
Leduc is the perfect place for families, with several top-rated schools in the area. The city also boasts excellent parks and recreational areas like Dr. Cooke Adventure Park and Woodbend Natural Area. Plenty of shopping centers, with major retailers like Walmart and Safeway conveniently located near residential neighborhoods. The city also has several libraries, providing access to books and other resources.
Knowing what is in your local area can help you make a more informed decision about houses for sale in Leduc. Be sure to research all of the amenities available before making your choice.
Consider key factors like commute time and public transit when making a decision.
When you're in the market for Leduc houses for sale, there are many factors to consider. In addition to looking at the size and amenities of a particular property, it's also important to think about things like commute time and access to public transit. This can be especially important if you work outside Leduc or need quick transportation links to other cities.
Fortunately, Leduc offers a variety of public transit options for those seeking a convenient way to get around town. The city has public bus stops and several park-and-ride locations that make it easy to catch a bus into Edmonton or other nearby destinations. In addition, the city also has an Edmonton international airport close by if you need to travel further afield.
The Mathew Haupt's eXp realty team can help you decide on finding Leduc houses for sale. We understand the importance of commute time and public transportation access in making the right choice, and we'll be happy to provide you with more information about your options.
Take virtual tours to better understand the house before you commit.
Virtual tours are a great way to better understand the house before committing if you are looking for sale Leduc real estate for sale. With 360-degree views of each room and detailed descriptions of every feature, virtual tours can help you decide if this is the right home for your family.
Plus, they're a great way to see the floor plan of each house and get a better sense of its size. From there, you can narrow your search to find the perfect home for your needs.
Virtual tours also provide a great way to tour multiple houses without leaving home. You can browse listings in the comfort of your living room and figure out which is best for you. You can even save the virtual tours of your favorite properties and compare them side-by-side. So if you're in the market for a cooperative selling system for Leduc houses, take advantage of virtual tours. They'll help you better understand each house before making any long-term decisions.
Check in with a real estate agent who can help guide you.
Getting the right advice and guidance is important if you're considering buying a home in Leduc. Working with identify real estate professionals agents can help you get the best deal on a house that meets all your needs. A good realtor will be able to show you Leduc houses for sale that fit within your budget and will be able to help you with the negotiation process.
They can also provide information about local schools, neighborhoods, and amenities that may be important to your decision-making. Finding a real estate agent with experience in Leduc houses for sale is key to ensuring your home purchase process goes smoothly. Once you've found the perfect house, several steps must be taken. This could involve obtaining a mortgage or loan financing, depending on your situation. A real estate agent can help you review your options and guide you through applying for a loan.