Houses For Sale Sylvan Lake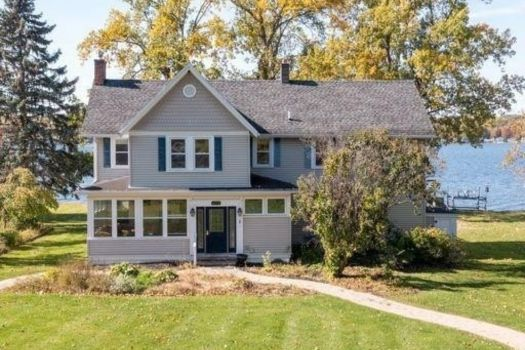 If you're looking for houses for sale in Sylvan Lake, you've come to the right place. Our team of experienced real estate professionals specializes in homes for sale at Sylvan Lake and can provide you with the guidance and resources needed to make a well-informed decision.
Our website features listings of cabins and other homes currently on the market. Whether you are looking for a family home, a cabin by the lake, or something with commercial value, you're sure to find what you're looking for in our extensive selection of available properties.
At Sylvan Lake Real Estate, we understand that purchasing a house is an important decision and that no two clients have the same needs and wants. That's why our real estate agents are dedicated to providing personalized service and advice tailored to your situation. We take the time to get to know you, understand your goals, and provide you with options based on your specific criteria.
The Haupt Realty Team is committed to excellence, and we strive to make the process as easy and stress-free as possible for our clients. For your convenience, feel free to register for a free account on our website so that you can receive email alerts whenever homes for sale in Sylvan Lake come on the market that match your specific criteria.
Houses For Sale Sylvan Lake by Price
Overview of Housing in Sylvan Lake
Sylvan Lake is a popular Alberta city located just 25 minutes from Red Deer and 1.5 hours from Calgary. This lake-side community offers stunning views, abundant outdoor activities, a vibrant culture, and convenient access to amenities like groceries and shopping.
Many houses are for sale for those looking to buy a home in Sylvan Lake. From small and reasonably priced starter homes to luxury lakefront properties, Sylvan Lake has something for everyone.
One popular option is ranch-style homes with large yards, which you can find in many neighborhoods – including those offering easy lake access. These properties offer plenty of space to stretch out and enjoy the outdoors in your garden or along the shore.
Benefits of Living in Sylvan Lake
Sylvan Lake, Alberta, is a beautiful lakefront community in central Alberta. With its friendly atmosphere and abundant natural beauty, it's no wonder why so many people are looking for houses for sale in Sylvan Lake. Whether you're a first-time homebuyer or an experienced investor, buying property in this vibrant community has plenty of advantages.
For starters, Sylvan Lake offers a variety of housing options ranging from single-family homes and condominiums to townhomes and more. The area also has numerous shopping destinations, recreational activities, and entertainment venues, making it ideal for families and young professionals.
The quality of life in Sylvan Lake is further enhanced by its proximity to major cities such as Calgary and Edmonton. This means that you not only get the convenience of city amenities, but you can also enjoy the slower pace of a small town.
What to Consider when Buying a House in Sylvan Lake
Buying a house in Sylvan Lake can be a great investment. It's an area that has seen continued growth and development due to its proximity to the lake, which is popular for fishing, swimming, camping, and more. However, before you go ahead and purchase a home in Sylvan Lake, there are some important considerations to keep in mind.
First and foremost, you need to consider your budget. The cost of homes in Sylvan Lake varies greatly depending on the type of property and its location. If you're looking for a multi-story home or waterfront property, you can expect to pay more than simply searching for a single-story home. It's important to thoroughly research the housing market and decide what type of house you can reasonably afford before leaping.
Another factor to consider is the property condition you are looking at. Make sure that any houses for sale in Sylvan Lake are up to code and well-maintained - don't be afraid to ask the current owner or real estate agent for proof of any necessary repairs or renovations. Additionally, investigate potential issues with flooding, pests, and security before committing to a purchase.
Types of Houses for Sale in Sylvan Lake
Sylvan Lake, Alberta, is a vibrant and growing community in central Alberta. As such, many types of houses are for sale in the area. Whether you're looking for a single-family home, a duplex, or something bigger like an acreage with lots of space to spread out, there's sure to be something that fits your needs.
Single-Family Homes:
Sylvan Lake is home to many single-family homes, from cozy cottages to larger two-story homes with plenty of space for a growing family. Many of these homes are close to the lake and other amenities like shopping and dining.
Duplexes:
Duplexes are becoming increasingly popular in Sylvan Lake, offering two separate units under one roof. Perfect for investors looking to purchase a property and rent it out or families who want to live close to each other but still have some privacy.
Acreages:
If you're looking for something with plenty of space, acreages make up many houses for sale in Sylvan Lake. These properties often offer sprawling lawns and acreage for animals, making them perfect for those looking to get away from the hustle and bustle of city life but still have access to amenities and services.
Tips for Finding the Right House
If you're looking for houses for sale in Sylvan Lake, Alberta, here are some tips to help you find the right house.
1. Start by identifying your budget and needs:
Before searching for houses, it's important to establish a budget and prioritize your needs to narrow your list of potential homes. Consider the cost of utilities, taxes, and insurance when setting your budget.
2. Analyze the neighborhood:
When searching for houses for sale in Sylvan Lake, it is also important to research the surrounding neighborhood. Pay attention to amenities like schools and parks, public transportation options, safety ratings, etc., to decide the best place for your family.
3. Get pre-approved:
Before buying a house, getting pre-approved for a loan from a trusted lender is important. This will give you an idea of how much money you can borrow and help you focus on homes within your budget.
4. Schedule a time to tour the homes:
Once you've narrowed down your list of potential homes, schedule a time to tour them in person. During the tour, take notes about what you like and don't like about each house to compare them later.
5. Make an offer:
After you've toured all the houses, it's time to make an offer. Research current market prices and use that information as a guide when making your offer.
The Haupt Realty team has a wealth of experience and expertise in the Sylvan Lake area. Contact us today to discuss your real estate needs, including houses for sale in Sylvan Lake! We're here to help you find the perfect home for you and your family.