Edmonton Infill Homes For Sale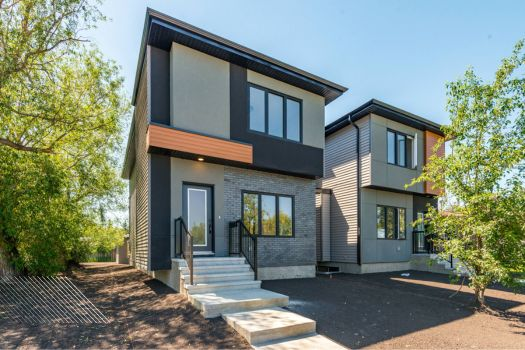 Included below are infill homes for sale in Edmonton, AB. These newly constructed properties are nestled within mature neighborhoods, providing the perfect blend of modern living and convenience. Whether you're exploring your options or ready to purchase a new home, click on a listing to access detailed property information and request more details.
And if you'd like additional insights into nearby sales history, dates, and prices of recently sold properties, or anything else related to these listings, just let us know how we can help! The Mathew Haupt team is passionate about helping you find the perfect Edmonton infill home for sale.
Edmonton Infill Property by Price
What is infill housing, and why it's becoming popular in Edmonton
Infill housing is the development of new homes, typically on an existing city lot, to densify urban areas while maintaining character and local charm. This type of development has become increasingly popular across Canada and Edmonton. The City of Edmonton recognizes the potential for Infill housing to create vibrant neighborhoods and promote environmental sustainability.
Edmonton's Infill Roadmap provides information about the various infill initiatives, such as incentives for developers who build green or affordable housing or increased allowances for secondary suites. These initiatives have made it possible for more people to purchase Edmonton Infill Homes For Sale creating a greater variety of options from which buyers can choose.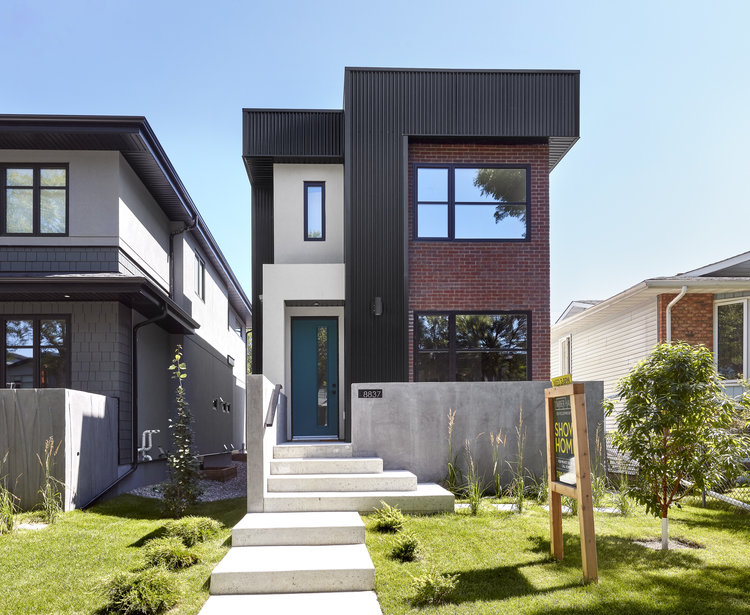 Advantages of buying an infill home
Buying an infill home in Edmonton presents many advantages. Infill homes are typically newer, have modern designs and finishes, and offer easy access to amenities like shopping, restaurants, parks, public transportation, etc. Furthermore, infill homes generally require less maintenance than older homes and have better energy efficiency due to newer materials and systems used in construction.
The displacement of existing neighborhoods is also much lower when building infill homes compared to the construction of new suburbs on the outskirts of cities. By purchasing an infill home in Edmonton, you can be sure that you are making a purchase that benefits you and your community.
Edmonton has seen an influx of high-quality infill housing over the past few years, and there are now many of Edmonton infill homes for sale. This provides buyers with an ample selection of homes, ranging in size and price point. Whether you're looking for a luxury townhome or an affordable single-family bungalow, Edmonton has something that fits your needs.
Tips for finding the best deal on an infill home
Edmonton is known for its expansive suburbs, but more and more buyers are considering infill homes as a viable option. Whether you're looking to live in the city's heart or hoping to invest in an up-and-coming area, Edmonton has plenty of options. Here are some tips on finding the best deal on an infill home:
1. Know Your Budget
Before starting your search for an infill home, it's important to understand what you can afford. Consider taxes, closing costs, renovation expenses, and other potential costs associated with buying a new property before determining how much money you'll need for your down payment.
2. Do Your Research
You don't want to rush into a decision when buying an infill home. Take your time and research the various neighborhoods in Edmonton that offer infill homes for sale. Ask your real estate agent questions about the area, consider the local amenities like schools, parks, and restaurants, and look at comparable homes in size and price.
3. Contact an Experienced Realtor
Consider enlisting help from a qualified real estate agent who knows Edmonton's infill market well. A knowledgeable realtor will be able to provide valuable insights on where to find the best deals on infills and advice on structuring offers so they stand out from other buyers.
4. Location Matters
Location is key for infill homes. Research neighborhoods close to downtown with easy access to public transit, shops, and amenities. Consider things like property taxes, noise levels, and the potential for future development in the area, as these will all play a role in determining the value of an infill home.
5. Don't Hesitate
Infill homes are hot commodities, so don't hesitate to offer one. Be prepared to act fast, as you may need to make multiple offers before finally landing a deal that works for you.
Benefits of living in a well-maintained infill house
Choosing an infill for your home in Edmonton has many benefits. Infills provide a great opportunity to live near amenities and services like shopping, restaurants, schools, parks, and more. They also offer a variety of living spaces, from single-family homes to small apartments or condos. Many infills are well-maintained with modern features that appeal to many homeowners looking for a fresh look and feel in their homes.
Edmonton's infill market is especially attractive due to its diversity and affordability. A wide selection of houses is available, ranging from quaint bungalows to larger two-story infills perfect for families looking for space. With the recent increase in demand, prices have risen but remain far below those of detached homes in Edmonton.
The Mathew Haupt team proudly serves all of Edmonton and specializes in the infill housing market. Contact us today for more information about Edmonton Infill Homes For Sale and learn how to find the perfect home for you and your family!