Canmore Banff Alberta Homes For Sale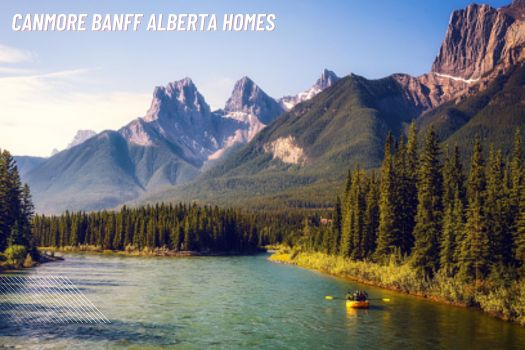 Canmore and Banff are two of Alberta's most desirable towns. This is due to the stunning natural beauty, vibrant communities, excellent job opportunities, and great amenities both locations offer. Plus, you can enjoy the best of both worlds with Canmore and Banff so close together! Whether you're looking for a cozy condo, a stunning single-family home, or an incredible luxury estate, plenty of options fit your needs and wants.
If you're interested in finding out what's available on the market today, start by browsing our listings of Canmore Banff Alberta homes for sale. You can filter your search results based on price range, number of bedrooms, quiet location close, and more to find the perfect fit. Plus, if you create a free account with us, you can get up-to-date alerts when new listings come onto the market that matches your specific criteria.
The Mathew Haupt team is here to help you find the perfect home in Canmore and Banff. Our experienced agents have an intimate knowledge of the area so that we can provide you with personalized advice throughout your real estate journey.
Canmore/Banff Homes For Sale by Price
An Overview of Canmore and Banff, Alberta
Canmore and Banff, Alberta, are Canada's most beloved mountain towns. Located in the heart of the Canadian Rockies, they offer some of the country's best outdoor scenery and recreational activities.
The communities of Canmore and Banff are well-known for their stunning natural beauty, with breathtaking views of snow-capped mountains and abundant wildlife. Both towns offer a variety of tourist attractions, including art galleries, museums, and shopping. Each town has a vibrant nightlife with plenty of restaurants, cafes, bars, and casinos.
The two towns are incredibly popular vacation destinations due to their range of outdoor activities. These include skiing, snowboarding, mountain biking, hiking, rafting, and kayaking. In the summer, visitors can enjoy camping in one of the many nearby parks or take in a round of golf.
The benefits of living in Canmore and Banff
Those looking for a home in Alberta will find that Canmore and Banff offer many benefits. This area is near the Rocky Mountains and offers stunning views of the mountains, rivers, and valleys.
Besides its natural beauty, Canmore and Banff provide easy access to activities like skiing, hiking, biking, horseback riding, and more. The two towns also boast vibrant restaurants, pubs, and cultural attractions. With their small-town atmosphere, Canmore and Banff are ideal places to live for families who want to enjoy a relaxed lifestyle.
In addition to these wonderful benefits, the area also offers many options for homes for sale. From luxury mountain cabins to condos and townhouses, there is something for everyone looking for a home in Canmore and Banff.
Plus, the real estate market is booming, with prices that remain significantly lower than those in larger Alberta cities. Whether you are looking for a primary residence or an investment property, plenty of Canmore Banff, Alberta homes is for sale to meet your needs.
Popular neighborhoods to consider when looking for a home in the area
Canmore and Banff in Alberta, Canada, are two of the most sought-after places to live. With stunning views, endless recreation opportunities, and world-class amenities, it's easy to see why people flock to this area. If you're looking for a home in Canmore or Banff, several popular neighborhoods should be on your list of possibilities.
In Canmore, popular neighborhoods include Spring Creek, Three Sisters, Falcon Crest, and Bear Paw. Each area offers access to amenities like shopping, dining, recreation centers, and more. These neighborhoods are near the Canadian Rocky Mountains and boast stunning views of the Bow Valley.
Banff is home to some of the most desirable neighborhoods, like Tunnel Mountain, Mount Norquay, and Rundleview. Each area boasts easy access to Banff's attractions, including Lake Minnewanka, Sulphur beam mountain style home, and more. These neighborhoods also offer proximity to specialty shops and popular restaurants.
Plenty of great neighborhoods exist whether you're looking for a home in Canmore or Banff. With its stunning views and endless activities, it's no surprise that Canmore Banff Alberta homes for sale are so desirable. Take some time to explore the area and find the perfect neighborhood for you and your family.
Types of properties available for sale in Canmore and Banff
You have plent you're f options when looking for a home in the beautiful breathtaking mountain views towns of Canmore and Banff, Alberta. There is something for everyone, from lakefront homes to ski-in/ski-out condos. Whether you are a first-time buyer or looking for an investment property, these two communities offer some amazing homes for sale.
Many single-family homes are available in the area if you want a house. Whether you're looking for a cozy mountain cabin or a luxurious estate with spectacular views, Canmore and Banff have it all. Many of these properties offer easy access to parks, lakes, trails, and other amenities that make a living in the area appealing.
Condo and townhouse options are also plentiful. These homes are often less expensive than single-family homes and offer great amenities such as underground parking, fitness centers, and even access to ski slopes or hiking trails. With some condos, you can enjoy the convenience of being close to shops, restaurants, and other attractions.
If you're looking for something unique, luxury properties are available in the area. These homes often include high-end finishes, stunning mountain views, and plenty of space for entertaining. With easy access to incredible outdoor activities, these homes can be a great option for those who want to live the ultimate mountain lifestyle and enjoy all that nature offers.
Tips for finding the perfect home in Canmore and Banff, Alberta
If you're looking for the perfect home in Canmore and Banff, Alberta, there are a few things to remember. Here are some tips to help you find the perfect Canmore Banff Alberta homes for sale:
1. Get Pre-Approved:
Before searching for your dream home, ensure you're pre-approved for a mortgage. This will help you narrow your search to homes within your budget.
2. Understand the Market:
Understanding the real estate market in Canmore and Banff, Alberta, is important before making an offer on a home. Get familiar with the current trends in pricing, inventory levels, and other real estate factors.
3. Do Your Research:
Once you understand the market, research potential homes you're interested in. Learn all about the neighborhood and amenities that are available nearby. Check out online reviews for the area and take virtual tours of homes that catch your eye.
4. Make a Wishlist:
Create a list of features you'd like your dream home to have, such as being close to local amenities or having an outdoor living space. This will help narrow down the homes that don't meet your needs and give you a better idea of what's available in Canmore and Banff, Alberta.
5. Get Professional Help:
Finding the perfect Canmore Banff Alberta home for sale can be time-consuming and stressful. Consider hiring a real estate professional to help you search for the right property and guide you through home-buying.