Want to Buy an Acreage around Edmonton? What you should know about Country living in Alberta
Posted by Haupt Client Care on Tuesday, August 17, 2021 at 8:02 AM
By Haupt Client Care / August 17, 2021
Comment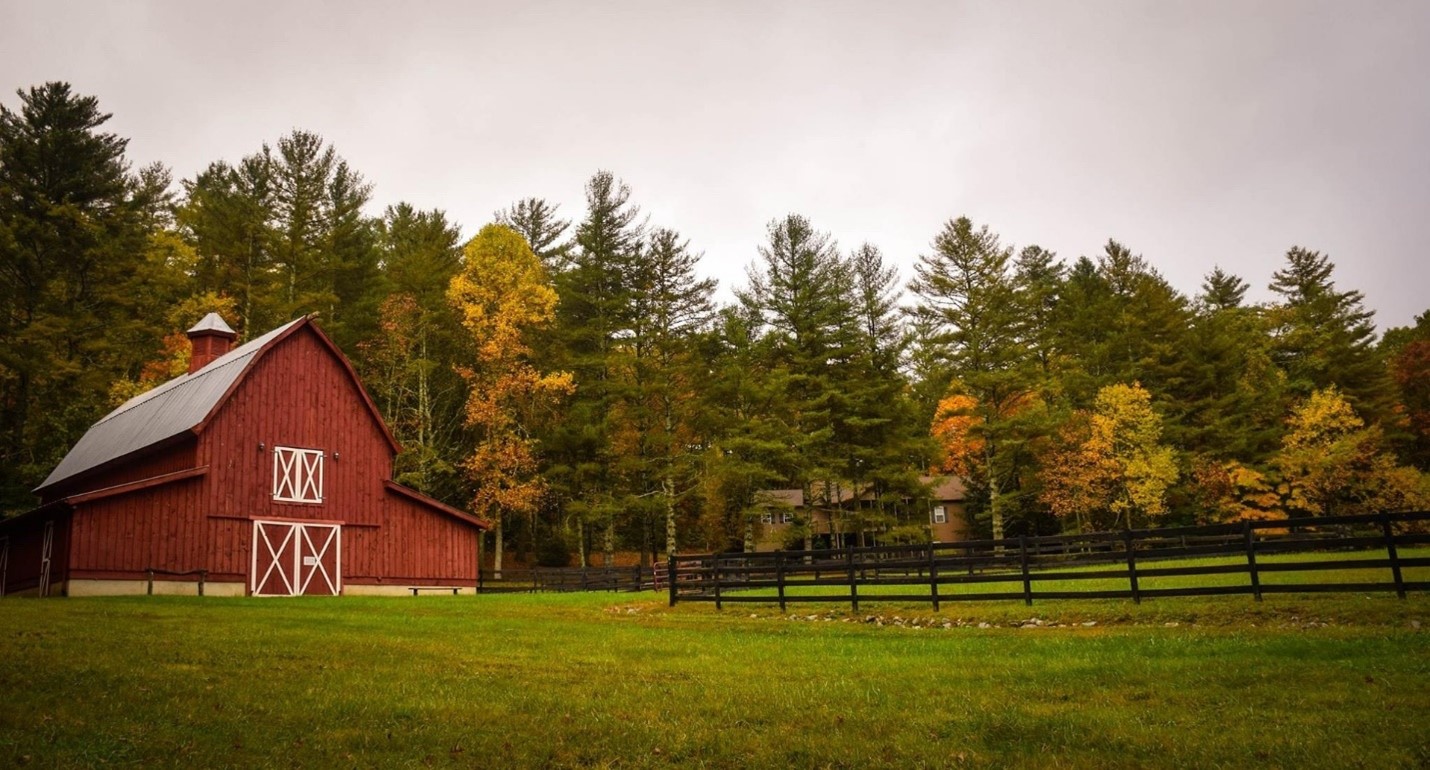 A desire for more space, freedom from lockdowns, peace and tranquility, and enough room to raise livestock, grow your food, or build a swimming pool, are amongst the main draws toward acreage life. Could a move out to the country be just the thing for you?
One thing you should know is that buying acreage is not a "country thing." Many rural subdivisions in Strathcona County like Chrenek Estates offer the best of both worlds. A small community, quick drive into the city, and beautiful large lots on rolling green acres. The advantage of investing in property in similar communities is -you will be close to amenities, schools, shopping centers, hospitals, and the city. Picturesque landscapes, fresh air, and lots of privacy are the primary advantages of buying acreage outside the city limits. However, as mentioned, moving to a rural area requires a deep understanding of what to expect.
In this article, we explore the realities of buying an acreage in Strathcona County.
Part 1: Should I Live on Acreage?
Acreage or country life offers peaceful serenity and privacy, but it also has some frustrations. One question you might have is -how is the cell reception? And are there ISPs in the area?
Luckily in 2021 cell phone coverage is becoming less and less of a problem, although you should still make sure to go to the property to check for yourself. Broadband internet remains an issue the further you get away from major population centres, but there are now many Fixed Wireless & LTE providers that are nearby Edmonton. As you can see by the coverage map below, you have complete coverage South of Edmonton & for up to 200km North, East, and West as well.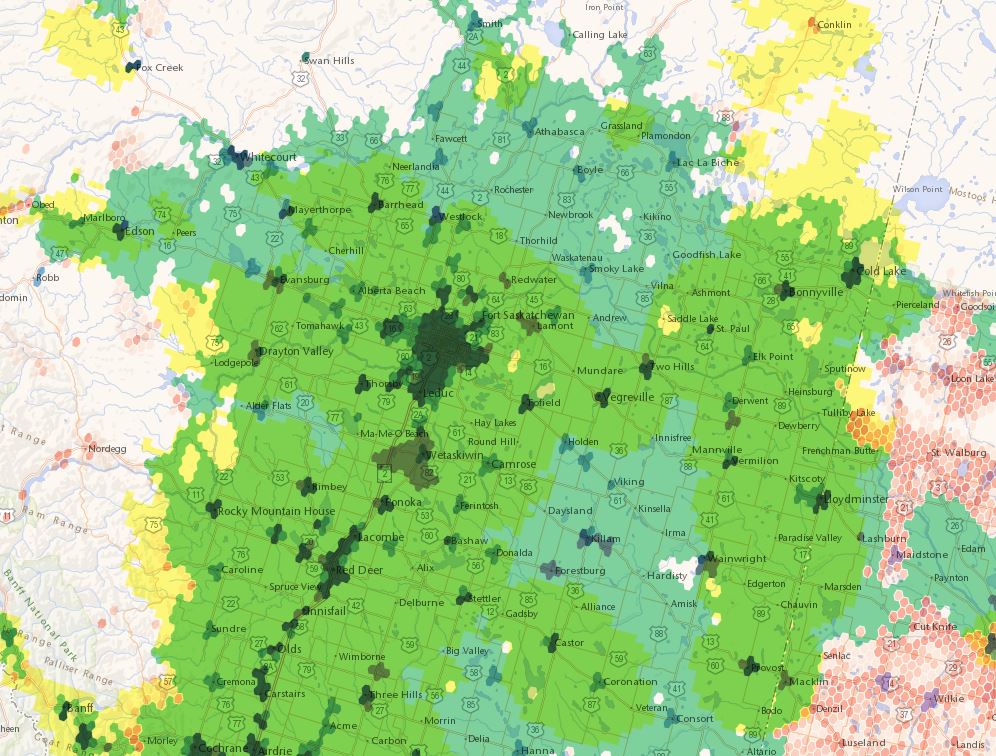 Cable/DSL (Dark Green) Fixed Wireless (Light Green) LTE (Yellow)
Another key consideration is your utilities Depending on your neighborhood you may have to heat and power your home through a combination of propane, generators, and solar. It is rare to find a home in Strathcona County that does not have electricity running to it, but sewage and water are another story. When you are away from the city, your home may not be connected to public gas utility, in some cases, your home may not have electricity.
If you want to buy acreage in Edmonton, do not rush your decision. Instead, take your time to find land or a home that fits your budget and needs.
You may decide to buy developed or undeveloped land, and if you decide to go this route than a realtor with construction experience is a great asset (Hint- It's Mathew Haupt)
What is the Future Value?
Buying property near the city or at a location experiencing rapid population growth is advisable if you are planning to resell the land. Before buying acreage, think about the future. Do you intend to sell or keep it in the family?
Planning also entails:
Property and liability insurance: will the land pay for itself, or will you pay property taxes out of pocket?
Can you afford the mortgage?
The good news is, land does not depreciate often. The value typically increases over a long enough scale, especially if you are making quality additions to the property.
What you Should Know About Living on Acreage in Edmonton
If the home is not connected to the city water supply or sewage system, you will need a well and septic tank.
The cost of drilling a well gets higher the deeper you need to drill.
It is a good idea to test the water supply to guarantee safety.
Does the land drain fast or slowly? Avoid properties prone to flooding, fires, or other natural disasters.
Can you access the property during winter?
What is your Neighbor Growing?
Although a picturesque view of rolling wheat fields might be just the sight you would like to see out of your bay window. Being next to a commercial farm may not be the most ideal place to buy a home.
Commercial farms can spray pesticides, herbicides, and other potentially dangerous chemicals. Consequently, buying a home next to a commercial farm may expose you and your family to drift (especially downwind).
Summed up, if you want to buy acreage in Alberta, the factors to consider include,
Zoning restrictions: regulations dictate what you can and cannot do with the land or property.
Utilities and water source: you may choose to connect to local utility providers or settle on off-grid living.
Soil quality: if you intend to grow your food, find an expert to check the soil quality.
Local climate: build a home that is suitable for local weather patterns.
Flooding and bush fires: check if the property is in bushfire and flooding zones before you buy.
How much Acreage is Enough?
If there is no land degradation, waste, or crop failure, the Food Agricultural Organization (FAO) advises that the average person needs seventeen acres of land for self-sustainable food. So many of the smaller acreages near large population centres will not suffice if you're trying to go this route.
For those looking for solitude or privacy 1 to 2 acres in a quiet tree lined neighborhood is enough.
Ten acres is enough to start a small farm. By subdividing the land, you may grow crops, keep some animals, and build a home.
Recommendations:
Farming: ten to twenty acres.
Build a home: anything above .2 acres.
It is also worth mentioning that Edmonton's zoning regulations require homes to be six meters away from the front property line and one point two meters away from the side property. But zoning laws in Strathcona County, Parkland County, and Sturgeon County can be different so contact us for more information.
Factors that Determine Acreage Value
Apart from real estate prices, some factors that determine land value include:
Location
Physical attributes
Accessibility to amenities
Surrounding properties.
Amenities available on land (fencing, stock tanks, structures, creeks, trees)
Easement to Gain Rights to Neighboring Properties
In some cases, you may need to use neighboring property to get to yours. That may mean getting an "easement to gain use of neighboring properties." Depending on the circumstances, a realtor or property lawyer will advise you on what option suits you best.
However, we recommend investing in property that is easily accessible.
Part 2: How to Buy Acreage in Edmonton
If you have considered all the factors above and are ready to make your dream of becoming a property owner a reality, here is where your journey begins.
Step 1: Find a Reliable Realtor in Edmonton.
Realtors work with a network of professionals, including land developers, property lawyers, and lenders. That makes realtors an invaluable asset in your arsenal. Experience, pricing expertise, construction knowledge and negotiation skills are amongst the many benefits of working with a realtor. On top of that, realtors know the neighborhoods, what to do with the paperwork, and can help you avoid closing or repair issues.
Remember, a reliable realtor understands and represents your interests. So, communication and patience are key to getting the home you want. Give us a call today at Haupt Realty for someone with all of the acreage hunting experience you need.
Step 2: Know What you are Buying.
When you find a property you like, your priority is to check local zoning laws. These laws will tell you what types of buildings are allowed in the area, what business or farm you may start, the height and size of buildings and how far away your property is from utility lines.
Once you understand the restrictions, the next step is to check if permits come with the land. Find out more here.
Step 3: Prepare all the Paperwork.
All documents, receipts, and agreements made during a sale or purchase are important. Therefore, keep your paperwork safe and have copies. Missing a permit, buyer agent contract, seller property disclosure statement, purchase agreement, inclusion/exclusions notes, and so on may delay closing.
Therefore, find an experienced realtor to help you with the paperwork if it is your first time buying.
Buy Acreage in Edmonton, Alberta, Canada: Summary
Side note: The bigger the property, the more property tax you will have to pay.
When buying acreage in Edmonton, the first thing you should do is consider property use. That will help you identify the type of property to invest in. You may purchase acreage to build a retirement home, farm, ranch, hunt/fish, or build a holiday home. Whatever your motivation is, make sure that you buy property suitable for it.
Another factor is topography. If you intend to farm, a flat piece of land is more suited, whereas raised property such as a hill is better for a country home.
If you must go through a neighbor's land to get to the main road. You may need a deeded easement.
Overall, you have two options, move deep into the countryside, or invest in acreage near the city. Only you can decide what option best suits you. Just make sure that all the essential needs are within reach, we recommend two to three hours from the city, and that you have a specific purpose for the land.
Looking to buy acreage in Edmonton? Check out recent listings here.