Moving from Toronto to Edmonton
Posted by Mathew Haupt on Saturday, March 25, 2023 at 6:30:57 PM
By Mathew Haupt / March 25, 2023
Comment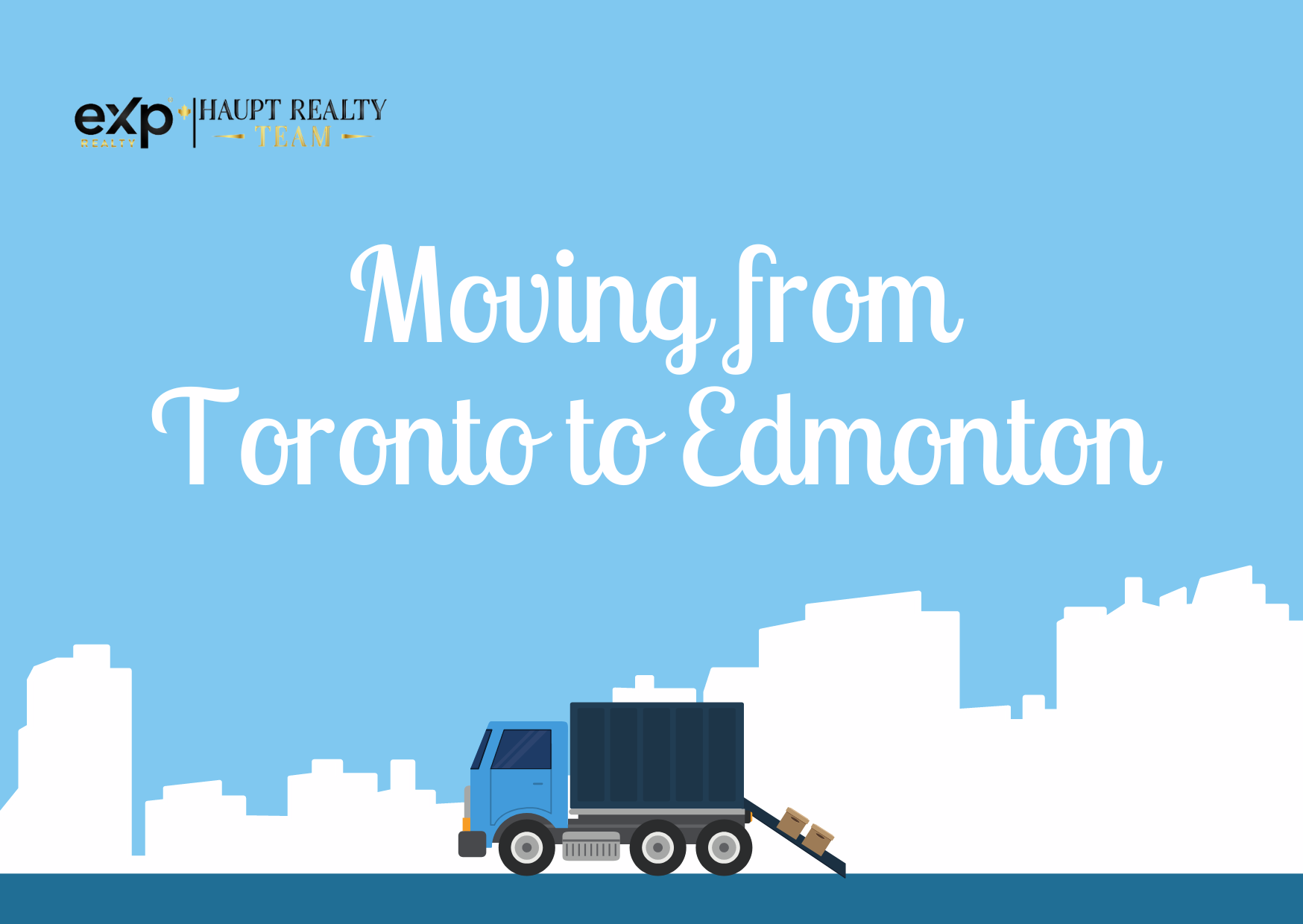 Moving to a new city can be an exciting and daunting experience, especially when leaving behind a city as vibrant and dynamic as Toronto. However, there are many reasons why moving to Edmonton can be an excellent choice. Edmonton, the capital city of Alberta, offers a wealth of benefits that make it an attractive place to live, work, and raise a family. From a lower cost of living to a thriving job market, exceptional education system, diverse communities, and ample outdoor recreational opportunities, Edmonton has much to offer.
In this article, we will explore why Edmonton is better than Toronto, and why it is worth considering making the move to this vibrant and welcoming city.
Cost of Living
One of the most significant advantages of living in Edmonton is its lower cost of living compared to Toronto. The cost of living in Edmonton is generally more affordable than in Toronto, from housing to transportation, groceries, and other daily necessities. According to Numbeo, the cost of living index in Edmonton is 22.44% lower than in Toronto.
Housing affordability and availability
Housing is one of the most significant expenses for most people. Compared to Toronto, Edmonton has a more affordable housing market, making it easier for people to find homes that fit their budget. In Edmonton, the average monthly rent for a one-bedroom apartment is approximately CAD 1,100, while a three-bedroom apartment is approximately CAD 1,800. The cost of purchasing a home is also more affordable in Edmonton, with the average price of a home in Edmonton being CAD 372,000 compared to CAD 1,000,000 in Toronto.
Transportation expenses
Edmonton also offers more affordable transportation options, with lower gas prices and public transit fares compared to Toronto. Public transit fares in Edmonton cost approximately CAD 97 per month, while the average monthly cost of gas for a car is approximately CAD 130, which is less than Toronto's average.
Overall, the lower cost of living in Edmonton means people can enjoy a higher standard of living and financial stability, with more disposable income left for savings, investments, and leisure activities.
Job Market
Edmonton boasts a diverse and thriving job market, with opportunities in various industries. Compared to Toronto, Edmonton has a lower unemployment rate and a lower cost of living, making it an attractive destination for job seekers. Here are some details about the job market in Edmonton:
Overview of the job market in Edmonton
Edmonton's job market is dynamic and diverse, with opportunities in many sectors, including finance, technology, healthcare, education, and government. The city's economic strength comes from its oil and gas sector, but there are many other industries in the city.
Employment opportunities in different industries
Edmonton has a strong job market in the healthcare sector, with several hospitals and healthcare centers in the city. The education sector is also robust, with many universities, colleges, and schools in the area. The technology sector is growing, with many startups and established companies in the city. The government is also a significant employer in Edmonton, with many jobs available in different departments.
Comparison of salaries and benefits
Salaries in Edmonton are generally lower than in Toronto, but the lower cost of living in Edmonton means that people can still maintain a comfortable lifestyle. The average salary in Edmonton is around CAD 62,000 per year, while the average salary in Toronto is around CAD 74,000 per year. However, benefits such as health insurance, paid time off, and retirement plans are generally similar between the two cities.
In summary, Edmonton's job market is diverse and growing, offering many opportunities for people in different industries. With a lower cost of living and a lower unemployment rate, Edmonton is an attractive destination for job seekers looking for career growth and stability.
Education
Edmonton offers excellent educational opportunities for students of all ages, from primary school to post-secondary education. The city has a reputation for providing high-quality education, with many schools, colleges, and universities to choose from.
Primary and Secondary Education
Edmonton has a strong public school system that provides students with a comprehensive education. The city's public schools are run by the Edmonton Public School Board and offer a variety of programs, including French immersion, arts-focused programs, and international baccalaureate programs. There are also private schools in Edmonton that offer different educational approaches and programs.
Post-Secondary Education
Edmonton has several post-secondary institutions, including the University of Alberta, MacEwan University, and NorQuest College. The University of Alberta is one of the top universities in Canada, offering a wide range of undergraduate and graduate programs in various fields, including medicine, engineering, law, and business. MacEwan University offers programs in arts, science, and business, while NorQuest College provides programs in health care, human services, and business.
Continuing Education
Edmonton offers numerous opportunities for continuing education, including programs at post-secondary institutions and adult education programs offered by the city. The City of Edmonton's Continuing Education program offers classes in various subjects, including languages, arts, and technology.
Education Support
Edmonton also offers support for students with special needs, with many programs and services available to help students succeed. The city has a range of resources, including special education programs in public schools, community resources, and advocacy groups.
Overall, Edmonton offers a strong education system with a range of options for students of all ages and needs. With excellent primary and secondary schools, top-tier universities, and numerous continuing education opportunities, Edmonton is an excellent destination for those seeking to further their education.
Outdoor Activities
Edmonton is known for its abundance of outdoor activities, with many opportunities to enjoy nature and the great outdoors. Here are some of the top outdoor activities to experience in Edmonton:
Hiking and Biking
Edmonton has many beautiful parks and trails that are perfect for hiking and biking. Some of the most popular trails include the River Valley trails, which offer more than 160 kilometers of trails along the North Saskatchewan River, and the Mill Creek Ravine Trail, which winds through a forested ravine in the city.
Water Activities
Edmonton is home to several lakes, including Lake Summerside and Lake Beaumaris, which offer opportunities for boating, fishing, and swimming. The North Saskatchewan River also provides opportunities for kayaking and canoeing.
Golfing
Edmonton is a golfer's paradise, with more than 70 golf courses in and around the city. From public courses to private clubs, Edmonton has something for golfers of all skill levels.
Winter Activities
In the winter months, Edmonton transforms into a winter wonderland, offering opportunities for skiing, snowboarding, and ice skating. The city has several ski hills, including Snow Valley and Sunridge Ski Area, and many outdoor skating rinks.
Parks and Gardens
Edmonton is home to many beautiful parks and gardens, including the Muttart Conservatory, a botanical garden with four pyramids that house plants from different climates around the world. Other popular parks include Hawrelak Park, which offers year-round recreational activities, and Fort Edmonton Park, a historical park that recreates life in the early days of Edmonton.
Festivals and Events
Edmonton hosts several festivals and events throughout the year, including the Edmonton Folk Music Festival, the Edmonton International Fringe Festival, and the Edmonton International Street Performers Festival. These events offer opportunities for outdoor entertainment and cultural experiences.
Overall, Edmonton offers a wide range of outdoor activities for people of all ages and interests, from hiking and biking to water activities and winter sports. With beautiful parks, gardens, and golf courses, Edmonton is an excellent destination for outdoor enthusiasts.
Culture and Entertainment