Living in Edmonton Alberta [THE PROS & CONS YOU NEED TO KNOW]
Posted by Haupt Client Care on Wednesday, March 31, 2021 at 11:26 AM
By Haupt Client Care / March 31, 2021
Comment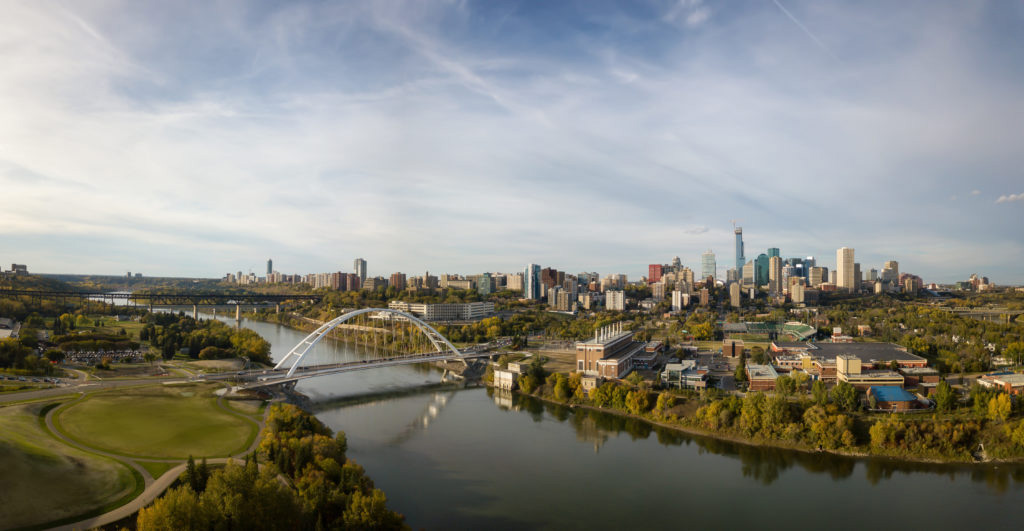 Are you thinking of moving to Edmonton? ... or are you wondering what it Is like to live in Edmonton Alberta? Well then this is for you, as we are going to cover the pros & cons of living in Edmonton.
Kudos to you for doing some research before you make up your mind if Edmonton is a good spot to call home.
With Wide open spaces, affordable housing, a recovering job market, a mid-sized urban area and the capital of Alberta, Edmonton offers a lot to attract prospective movers. However, along with its advantages, like any city it also has its downsides. So don't start packing your bags until you have read the full post where we will be going over the pros and cons of moving to Edmonton.
The PROS of moving to & living in Edmonton:
Below are some factors that make Edmonton a GREAT place to live! You'll find a lot to love if you're moving to Edmonton. The city of champions is a clean, green, affordable city you can be proud to call home.
1. Friendly Atmosphere
Unlike the residents of some larger metropolitan areas, Edmonton has a slowerpaced, community-oriented feeling. This upbeat attitude will go a long way to help you settle in and make new friends after moving here. Friendliness and community are two of Edmonton's most outstanding characteristics. The friendly local folks are welcoming to newcomers and visitors.
2. Festival City of Canada
Edmonton truly deserves the nickname "Festival City," as it plays host to a huge number of festivals. Mainly centred in the Arts District downtown, over fifty festivals a year provide a variety of exciting experiences, spotlighting art, drama, folklore, food, holidays, music, spiritual traditions, and more. The stars of the show are the annual mega Edmonton International Fringe Theatre Festival, the largest and longest-running event of its kind in Canada and Folk Fest in August located Gallagher Park overlooking the river and downtown!
3. Sports Galore
Edmontonian's are proud sports fans! The Edmonton Oilers, our NHL team is the definitely the biggest hit among us together with the world class experience of Rogers Place and the Ice District to take in the games! We also have a CFL team and another half-dozen amateur and junior sports clubs. If you prefer playing rather than watching, choose from a plethora of sports activities... outdoor, indoor, on the ground or on ice, and geared toward all ages and levels of skill.
4. West Edmonton Mall
A pros list of Edmonton would be incomplete without a mention of the WEM. It is the largest shopping complex in North America (covering 5.3 million square feet!), its excellent shopping is just part of the story though. The Mall is a destination in itself, and you could easily spend a whole vacation there, enjoying attractions like an Underground Aquarium, Galaxy Land Amusement Park, Mini Golf, Bowling, Cinema and a year-round tropical water park and to finish up your day, there's a host of dining and lounge options and even two hotels onsite, one being the Iconic Fantasy Land Hotel.
5. Urban Life with Nature & Parks
Edmonton is attractively located in a lush river valley with the North Saskatchewan River running right through the city. In addition, an impressive network of open spaces and parks, planned with the aim of protecting the natural environment, helps keep the capital green. We have the largest urban park in Canada, with more than 160 kilometres of maintained pathways and 20 major parks, the River Valley is a natural wonder in Edmonton for us to be proud of. Along with the lush parks and river valley, Edmonton has many fun summer activities such as hiking, Klondike Days, football games, indoor and outdoor theme parks and outdoor pools and spray parks.
The CONS of moving to & living in Edmonton:
Now that we have gone over some pros of living in Edmonton let's balance that positive report with a few negatives about living in Edmonton, Alberta.
1. Weather & Climate
The city's northerly location means you'll need to brace yourself for cold winters that may seem to go on forever, although this year we have had a great mild winter. Snowfall is relatively light, though, compared with many other Canadian cities (Edmonton averages 123.5 centimetres of snow per year vs. Montreal's 209 cm.). In general Edmonton weather is known as extremely unpredictable. One day it could be snowing and overcast and the next day could be sunny and beautiful. Although - Edmonton is also known to be quite sunny year-round with an avg of 325 sunny days and 2,345 hours of bright sunshine per year.
2. Road Construction
Those long harsh winters take their toll on local roads, leaving cracks and potholes all over the place. During the summers, Edmonton city streets often seem to be "under construction" semi-permanently. Motorists feel this as a major inconvenience because, although Edmonton's population is not huge, the city is geographically spread out and you tend to end up driving to work or social activities. Although, public transportation has begun to improve in recent years, with an expanding train systems and bus lines which connect the entire city.
3. Crime Rates
Edmonton severity index (an annual measure of number and severity of crimes reported to the police) was the second highest in Canada for 2017, over 37% higher than Calgary its neighbour to the south. Before that fact makes you think twice moving to Edmonton, consider the context. Most local crimes are gang and drug-related, and do not target the general public.

Should You Move to Edmonton?
It's all about your priorities. If you like the idea of a green, friendly, active city, Edmonton could be the perfect fit for you. On the other hand, if you hate winter and are phased by the thought of crime and long hours getting from place to place, you might see Edmonton as less than ideal.
But if you've got an interesting job offer or you're interested in attending one of Edmonton's many post-secondary institutions, why not go ahead and move to the city? Chances are you'll end up proud to call Edmonton home.
If video is more your style, check out our YouTube video on Living in Edmonton Alberta [THE PROS & CONS YOU NEED TO KNOW] https://www.youtube.com/watch?v=TKlKoSVtb1s