How to Stage Your Home to Sell
Posted by Haupt Client Care on Sunday, January 3, 2021 at 4:13 AM
By Haupt Client Care / January 3, 2021
Comment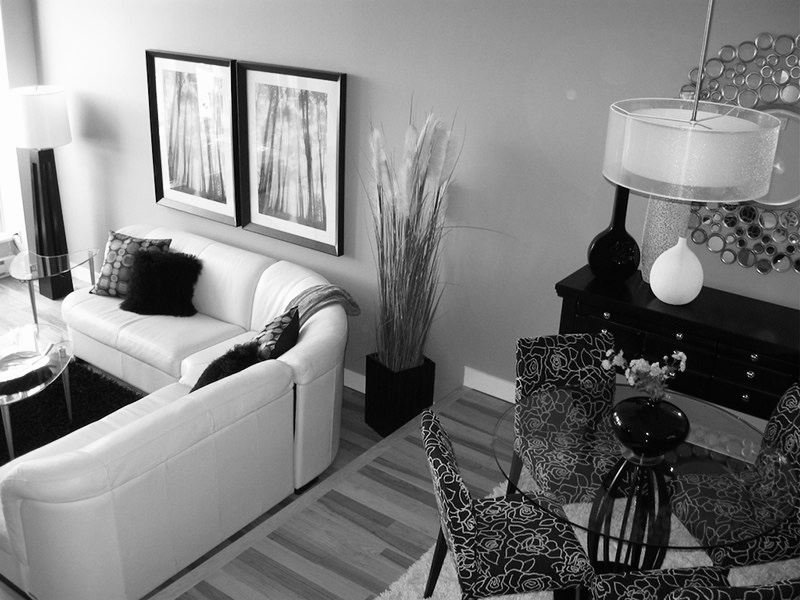 1. Boost your curb appeal
Many people thinking about viewing your property will most likely do a drive by of the property before they contact a realtor to view the interior of the house (you know we've all done that haha). Anyway this is often the deciding factor if they do want to view the inside based on their opinion of the exterior appeal of the house. Lure people to view the interior of your home with these simple steps:
> Wash siding and walkways
> Make sure the house number is very visible
> Plant flowers with colours and fresh greenery
> Mow lawn and repair dead spots with new sod or seed
> Wash all your exterior windows
> Repaint or stain any wood that has shown age, such as decks or front porches or trims
2. Welcome people in with an inviting front entrance setting
Even if you only have a tiny front step, make it as "homey" feeling as possible with a clean door mat, fresh flower pots and if there is room some unique porch furniture. Keep your porch lights on in the evenings for potential drive bus of prospective buyers. Illuminating the front walkway and porch of your house with solar lamps is a nice touch, especially if you will be showing the home during evening hours.
3. Get your home cleaned extremely well
Every surface should sparkle from shining floors, gleaming windows, clean counters, and scrubbed out grout. This is definitely the easiest, well probably not the easiest but its the cheapest way to help your home be show ready!
4. Get rid of ALL the clutter
If you are serious about staging your home this step is also very important, ALL THE CLUTTER MUST GO... the end.... well not quite but you get where I am coming from. Clean and clear surfaces such as floors, cupboards, and closets allow the potential buyer to see more space in the home, so basically people PURGE anything unnecessary or unsightly!
On the other hand though you may feel like these things considered clutter are your style and you like them but guess what it may not be the style of potential buyers seeking to buy a house in your neighbourhood. You can bring your own personal style back into play in your new home, just reign it in for now. Less is more.
5. Create a balance between a clean home and a lived in home.
Yes.... I did say for all the clutter to be gone buuuuut that being said you need to bring back a few elements that make your home more appealing. Options can include vases of flowers, basket of fresh produce in the kitchen, a bowl of fresh lemons by the sink, or lastly candles a few tasteful candles.
6. Style your DINING ROOM TABLE.
The dining room table is often looked past when decorating a home, between dinners a large dining room table can look uninviting, so styling it up can increase the appeal. Oversized arrangements can often look to formal, so instead try a series of smaller vessels down the center of the table with maybe a full length decorative table runner underneath. NOTE ** A table runner is not a full table cloth as you generally want your table to speak for it self. It is a small in width long in length table cloth like material that just goes down the center of the table leaving the side of the table visible.
7. Take a good look at your floors
At a minimum give all floors a thorough cleaning and steam all the carpets, but also consider having hardwood flooring refinished if in poor shape. TIP** If refinishing the flooring is out of your budget at the moment you can strategically place area rugs to hide some blemishes.
8. Rearrange your furniture
Symmetrical arrangements in the living room usually work well. Take furniture off the walls and use pairings of sofas, chairs or lamps to create an inviting space for easy conversation.
9. Choose neutral colours.
When selling your home it is not the time to experiment with colours you think might look "cool" in the house. That being said it doesn't mean white is then your only choice, wish midtown neutrals such as mochas, beiges, and greys create a sophisticated setting that makes everything pull together.
10. Create a neutral master bedroom
When I say neutral I don't just mean colours but also gender. Appeal the space to everyone with a stylish but tailored master bedroom free of personal items and clutter. Tasteful artwork, crisp linens, and a blanket folded at the end of the bed is a great way to stage the master bedroom to appeal to everyone.
11. Open closets
Open-house visitors will ALWAYS peek inside your closets. Closet space can make it or break it for a potential buyer, so show your closets off to their full advantage by getting rid of excess stuff to make them look even more spacious.
12. Clean up toys
There will potentially be families that do have kids looking at your home but that doesn't mean seeing toys everywhere will sell them on the home. When people house hunt they imagine a fresh start, show them your home is that house and it is possible to have an organized kids room.
13. Use "extra" space wisely
Each room should have a clearly defined purpose get rid of the room you use as a "dumping room" and make it into something with a purpose. A office? A Guest room? Another kids room? Making a real room out of a junk room with have a big pay off.
14. Try a pedestal sink to maximize your space
If your bathroom is small but has a huge cabinet sink style setting try swiping it out for a delicate pedestal sink look, your bathroom will appear larger right away.
15. Use only the perfect personal accents
This is especially important in the bathroom, anything left out for potential buyers to see should be pristine. Example if your have a gorgeous fluffy white bath rob hang it on a decorative hanger on the door, this can create an appealing accent. Bars of soap should be fresh and clean, towels clean, and the garbage always empty.
16. Entice people to explore your whole house.
Placing accents that draw the eye to the top of the stairs, to the hallway or to the corners allows you to engage curiosity and keep potential buyers interested for more. Artwork, a painted wall accent, a window bench, a vase of fresh flowers, a accent light, or a colourful rug are sure fire ways to draw the eye to undiscovered territory.
17. Show how you can make use of those "awkward areas" in your home
If you have room beneath the stairs, or a nook or alcove in your home find a unique way to make it into useful space. This way your awkward point becomes another selling point for potential buyers.
18. Beware of pet odors
This is a big one if you have pets. Get all rugs steam cleaned and do extra vacuuming and washing of surfaces anywhere where the pets could or have been. Also make sure to clean up any toys or bones and clean around food bowels of your pets.
19. Create a lifestyle people look for
You want to play up what your neighbourhood or area is known for and what it has to offer. Example if you have a house in a quiet grassy suburb or average refuge hanging a hammock in your backyard or bench swing on your porch or in a tree could be the ultimate touch for some people.
20. Stage the outdoors.
Even if you life in a condo with a tiny balcony play it up by adding a cute sitting area with some plants and maybe a small cafe table with a table cloth and little tray. This will make people thinks its a charming spot and not focusing on how small it is.
21. Think seasonal
When it comes to seasons especially in Edmonton we have a few so working with the seasons to make your property appealing is vital. In spring summer make sure your garden is in outstanding shape and any extras such as fire pits or pools are cleaned and setup to be inviting. In the colder months of fall and winter play up the cozy vibe by building a fire in the fireplace and/or simmering hot apple cider on the stove.
And there you have it, 21 ways to help you stage your home for the selling process. Contact us today if your thinking of selling your home and take advantage of our free home evaluation!
Happy Tuesday
www.hauptrealty.com